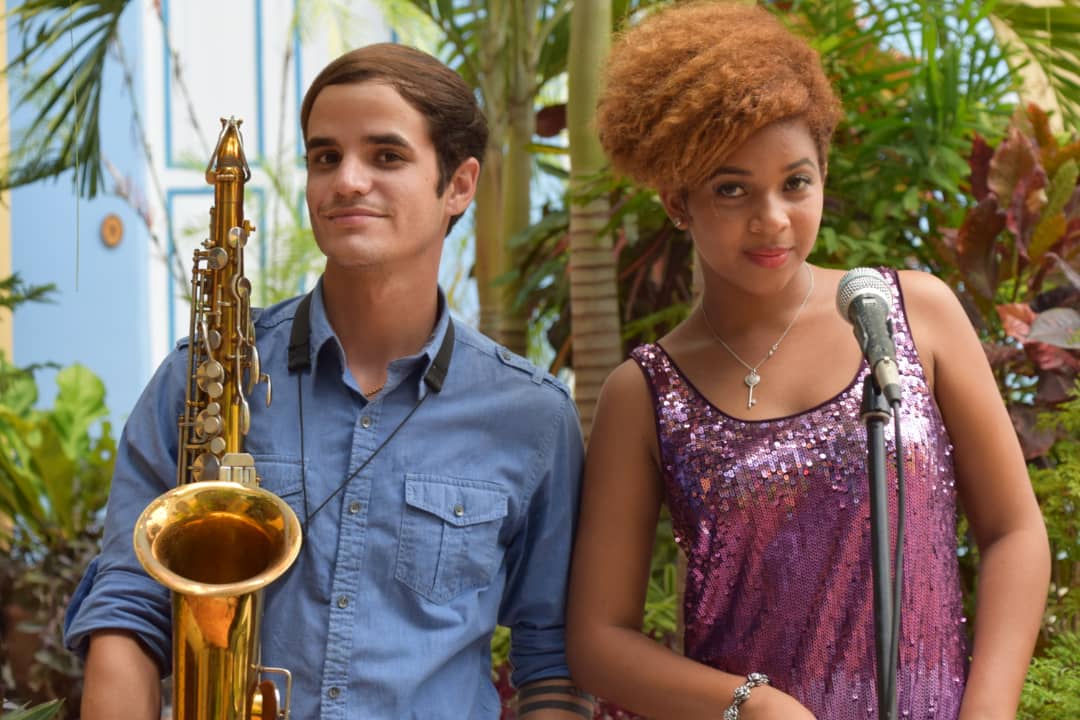 VIDEOS :

http://v.youku.com/v_show/id_XNDAxNTM0NDQwMA==.html?x&sharefrom=android&sharekey=7f5e7402bf3ee6fca2a15e23d60536468
If you need to bring elegance to your venue this Duo is your perfect choice. Poles Apart can give you an unforgettable musical experience and entertain you whit a show that involves stylish presentations and greats memories for your guests. Merlys and Dario are outstanding musicians; they have a unique way of combine the latin and the international music whit jazz vibes, sax and keyboard. This exceptional duo is the perfect match for any venue where you need a passionate and stylish show.
PERSONAL INFORMATION:
Name: Dario Madrigal Ferrer
Nationality: Cuban
Activity: Professional Sax and Keyboard player
Age: 21 years old
Height:1.70cm
Weight: 65 kg
Language: English, Spanish
Name: Merlys Márquez Alvarez
Nationality: Cuban
Activity: Professional Singer, keyboard, and trombone player
Age: 21 years old
Height:1.66cm
Weight: 54 kg
Language: English, Spanish, Portuguese
1. BAND CREATION INFORMATION AND SPECIAL SKILLS:
Poles Apart is from Santi Spiritus, Cuba. They began their work together in the year 2016. Since then they have an attractive repertoire that includes international music combine with latin rhythms. Both musicians are graduates of the national system of art education in Cuba, with excellent results in their profiles. As well-trained musicians this duo is able to play all kind of music, going from jazz, blues, oldies and American standards, to the most recent ballads, pop, top 40, including the latin music and instrumental tunes. They are able to sing in Spanish, English, Portuguese, and Chinese. Poles Apart is mainly focus in good music, modern looks and excellent performances, that′s why this duo will give to your guests an unforgettable experience.
2. WORK EXPERIENCE:
- Hotel and Resorts in Varadero, Cuba: Meliá Varadero; Sandals; Patriarca; Marina Palace; Princesa del Mar; Blau Varadero; Trip Peninsula; Sun Beach.
- Night-clubs and Bars in Varadero city and Trinidad city
- Imagen Show Company and Tropicana Varadero Show Company.
3. SONG LIST:
INTERNATIONAL SONGS
Havana - pop
Versace on the floor – pop
Work – pop
How deep is your love – pop
Have you meet Miss Jones
Misty
Autumn leaves
Smile
Song for you
I will always love you
Shape of you
Over the rainbow
Let me love you
No one
Rude
All of me
Back to black
Feeling good
I'm not the only one
Yesterday
See you again
Cheerleader
Crazy in love
All you need is love
Billie Jean
Englishman in New York
Firework
Gravity
Hey Jude
I can′t help you
I will survive
I′m yours
Isn′t she lovely?
Let it be
Overjoyed
Part time lover
Titanium
Sorry
Rehab
My way
Black or white
Hotel California
LATIN SONGS
Stand by me
No woman no cry
Addicted to you
Tu amor me hace bien – salsa
Idilio – salsa
Felices los 4 – salsa
Flor pálida – salsa
Bésame mucho – bolero
Sombras - bolero
Perla marina - bolero
Convergencia - bolero
Tal vez – son
Obsesión – son
Darte un beso
Bachata en Fukuoka
Mi ayer
La vida me cambió
Mentiroso
Mañana de carnaval
Bailando
Carnaval
Las avispas
La bilirrubina
No pensé enamorarme otra vez
Que alguien me diga
Contigo en la distancia
Ella
Amiga mía
Despacito
Macori
Ahora quien
Hasta ayer
Valió la pena
Aguanile
Allí
11 y 6
Muévete
Como fue
Contigo aprendí
Bemba colorá
Corazón parti′o
Historia de un amor
Loca
Llorarás
Quizás, quizás
PORTUGUESE SONGS
Garota de Ipanema
Mais que nada
Samba de una sola nota
Ai si eu te pego
Bara bara bara