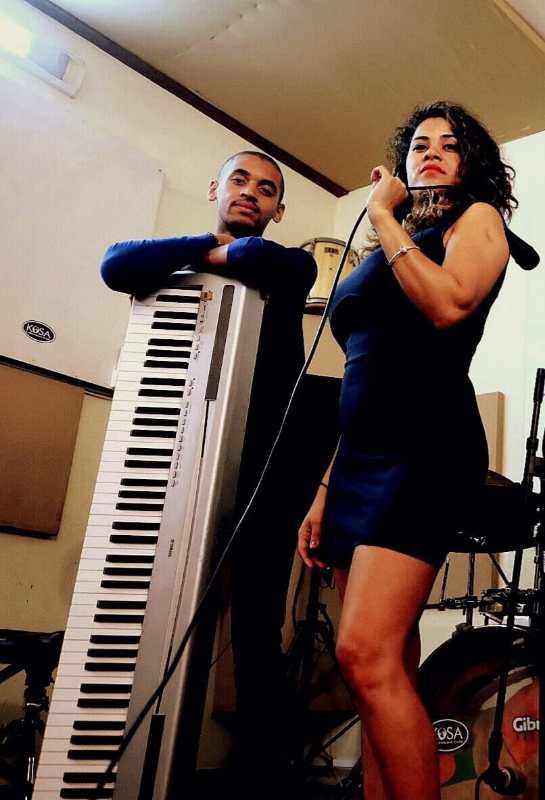 VIDEOS:

http://v.youku.com/v_show/id_XNDAxNTM1MTg0NA==.html?x&sharefrom=android&sharekey=018d370a94fc4fbb6eca8dc2f38d2f906
Zohar is a jazzy duo from Cuba. Whit talented and experienced musicians this duo gives youa high quality performance that unify cuban and the international music in a passionate and stylish show. Arianny and Pablo are outstanding musicians; they are capable of combine the exquisite sounds of piano and a wonderful voice to perform a passionate and elegant show perfect for your venue. Zohar can give you an unforgettable musical experience and greats memories for your guests. If you need to bring elegance to your venue, if you want to create a peaceful ambience and entertain at the same time, this Duo it′s for you.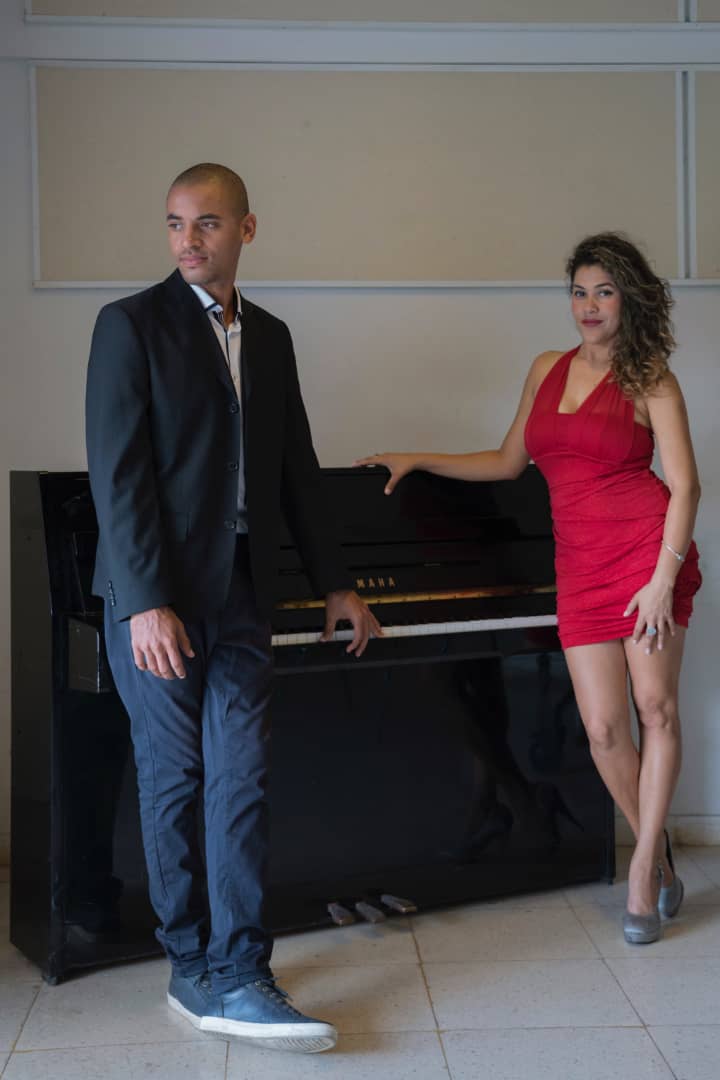 Name: Pablo Richard Rodriguez Marzol
Nationality: Cuban
Activity: Professional Piano and Guitar player
Age: 22 years old
Height:1.79cm
Weight: 74 kg
Language: English, Spanish, Arabic (basic)
Name: Arianny González Mejías
Nationality: Cuban
Activity: Professional Singer and minor percussion
Age: 29 years old
Height:1.68cm
Weight: 68 kg
Language: English, Spanish, Portuguese
This duo is from La Habana, Cuba. Zohar began their work together in the year 2016. Since then they have a wide and attractive repertoire that can be adapted to the needs of every client. Both musicians are graduates of the national system of art education in Cuba, with excellent results in classic piano and singing, but they are also capable of play guitar and minor percussion. As well-trained musicians, this duo is able to play all kind of music, going from jazz, blues, oldies and American standards, to the most recent ballads, pop, top 40, including the latin music and instrumental tunes. They can sing in English, Spanish, Portuguese, Arabic and Chinese (if the client requests it). Zohar is mainly focus in good music and excellent performances, that′s why this duo is the perfect choicefor any venue you can have.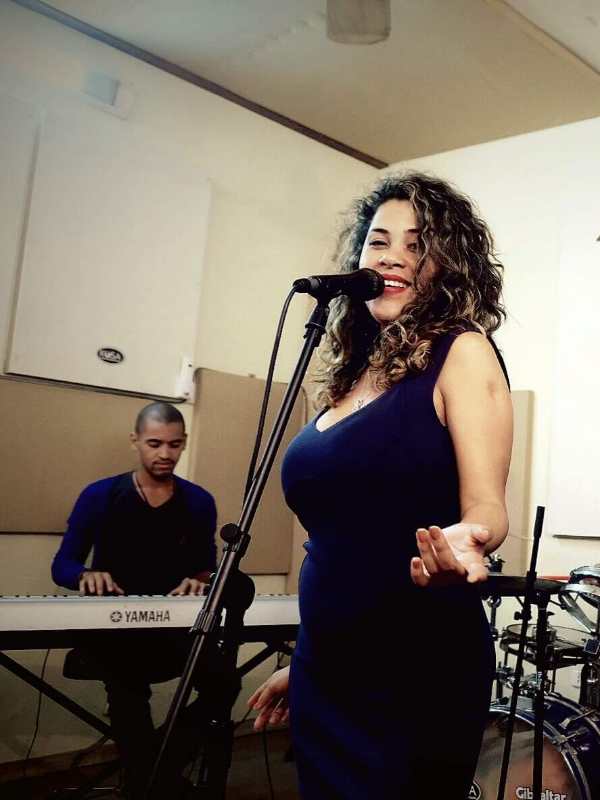 1. WORK EXPERIENCE:
Since 2016 Zohar is presented in important scenarios of Havana city as Residence Duo in:




- Parque Central Hotel




- Capri Hotel




- Havana Riviera Hotel




- Tocororo Bar



- La Zorra y el Cuervo Bar


SONG LIST:
1. Autumn leaves (Vernon Duke)
2. The girl from Ipanema (Carlos Jobim)
3. Blue Bossa (Bossa)
4. Desafinado (João Gilberto)
5. Confirmation (Charlie Parker)
6. Corcovado (Carlos Jobim)
7. As time goes by (Herman Hupfel)
8. Oleo (Sonny Rollins)
9. Donna Lee (Charlie Parker)
10. All blues (Miles Davis)
11. Summertime (G. Gershwin)
12. Tenderly (W. Gross)
13. Over ther Rainbow (E. Y. Harburg)
14. A Night in Tunisia (Dizzy Gillespie)
15. So What (Miles Davis)
16. All the things you are (Hammerstein/Kern)
17. Autumn in New York (Vernon Duke)
18. New York New York (Fran Sinatra)
19. My way (Fran Sinatra)
20. I feel good (James Brown)
21. Killing me Softly (Norman Gimbel)
22. Georgia on my mind (Hoagy Charmichael)
23. Crazy (Willie Nelson)
24. Wave (Carlos Jobim)
25. Honestly (Billy Joel)
26. Fly me to the moon (Bart Howard)
27. Caravan (Irving Mills)
28. Misty (Kate Bush)
29. My foolish heart (Ned Washington)
30. My funny valentine (Lorenz Hart)
31. Besame mucho (Consuelo Velázquez)
32. Quizas (Osvaldo Farrés)
33. La gloria eres tu (José Antonio Méndez)
34. A felicidade (Vinícius de Moraes)
35. Let it be (John Lennon)
36. Hey jude (Beatles)
37. Yesterday (Beatles)
38. Michelle (Beatles)
39. One for my baby (Johnny Mercer)
40. Four (Miles Davis)
41. Lullaby of birdland (George David Weiss)
42. My one and only (Robert Mellin)
43. Sofisticated lady (Irving Mills)
44. Stella by starlight (Ned Washington)
45. The song is you (Miles Davis)
46. Como fue (Benny Moré)
47. Contigo aprendí (Armando Manzanero)
48. Contigo en la distancia (Cesar Portillo)
49. Somos novios (Armando Manzanero)
50. Careless Whisper (George Michael)
51. Smooth operator (Sade Adu)
52. Our love is here to stay (Ira Gershwin)
53. Laura (Charlie Parker)
54. No woman no cray (Bob Marley)
55. Get up, stand up (Bob Marley)
56. Is this love (Bob Marley)
57. Could you be loved (Bob Marley)
58. I shot the sheriff (Bob Marley)
59. Jamming (Bob Marley)
60. Cheek to Cheek (Irving Berlin)
61. Lets fall in love (Ted Koehler)
62. Dreams a Little dreams of me (Gus Kahn)
63. I've got you under my skin (Cole Porter)
64. Every time we say goodbye (Cole Porter)
65. I get a kick out of you (Cole Porter)
66. The nearness of you (Ned Washington)
67. Cry me a river (Timbaland)
68. Smooth sailing (Josh Homme)
69. A fine romance (Dorothy Fields)
70. Putting on the Ritz (Irving Berlin)
71. Just one of those things (Cole Porter)
72. In the still of the night (Jonh Sykes)
73. Manhattan ( Lorenz Hart)
74. Blue skies (Irving Berlin)
75. What is this thing called love (Cole Porter)
76. Night and day (Cole Porter)
77. I love you, Porgy (George Gershwin)
78. They can't take that away from me (Ira Gershwin)
79. Fascinating rhythm (Ira Gershwin)
80. I got rhythm (Ira Gershwin)
81. Stormy weather (Ted Koehler)
82. Embraceable you (Ira Gershwin)
83. How about me? (Irving Berlin)
84. The man I love (Ira Gershwin)
85. Change partners (Irving Berlin)
86. But not for me (Ira Gershwin)
87. Imagine (John Lennon)
88. The lady is a tramp (Lorenz Hart)
89. Lush life (Marcus Sepehrmanesh)
90. I've got crush on you ( Ira Gershwin )
91. All of you (Cole Portet)
92. Begin the Beguine (Cole Porter)
93. Love for sale (Cole Porter)
94. Solitude (Irving Mills)
95. With a song in my heart (Alfred Newman)
96. I've got the world on a string (Ted Koehler)
97. Start dust (Mitchell Parish)
98. In a sentimental mood (Duke Ellington)
99. Body and soul (Robert Heyman)
100. How high the moon (Morgan Lewis)
101. Angel eyes (Earl K. Brent)
102. Maybe (Richard Barret)
103. Baby it's cold outside (Frank Henry Loesser)
104. You won't be satisfied (Teddy Powell)
105. Basin Street Blues (Spencer Williams)
106. Moanin low (Howard Dietz)
107. An empty ballroom (Ella Fitzgerald)
108. I've got a feeling I'm falling (Billy Rose)
109. Crying (Joe Melsson)
110. Black coffee (Paul Francis Webster)
111. Old devil Moon ( Yip Harburg)
112. Lagrimas negras ( Miguel Matamoros)
113. Ai Se Eu Te Pego (Michel Telo)
114. Blues for Key Largo (Max Steiner)
115. Amor Em Paz (Vinícius de Moraes)
116. Forgotten Adventures (Bill & Ted)
117. Summer (Calvin Harris)
118. Waves (Mr. Probz)
119. Copacabana (Line Renaud)
120. Con Alma (Tito Gomez)
121. Mambo No. 5 (Lou Bega)
122. One Note Samba (Jon Hendricks)
123. Meditation (Andrew Jarman)
124. Grande Amor (Hermanos Medina)
125. The Jive Samba (Nat Adderley)
126. The Shadow of Your Smile (Paul Francis Webster)
127. Carioca (Gus Kahn)
128. Besame Mucho (Consuelo Velázquez)
129. Aguanile (Hector Lavoe)
130. Yellow Bird (Oswald Durand)
131. Stumpy Bossa Nova (Coleman Hawkins)
132. Love for Sale (Cole Porter)
133. Drume Negrita (Eliseo Grenet)
134. Mambo No. 8 (Damaso Perez Prado)
135. Morro Nao Tem Vez (Carlos Jobim)
136. In a Shanty in Old Shanty Town (Joe Young)
137. Papa Loves Mambo (Al Hoffman)
138. Quizas, Quizas, Quizas (Osvaldo Farrés)
139. My Foolish Heart (Ned Washington)
140. Spain (Al Jarreau)
141. Mambo Influenciado (Chucho Valdes)
142. Havana (Camila Cabello)
143. Mambo (Damaso Perez Prado)
144. Guantanamera (Buena Vista Social Club)
145. Oye Como Va (Tito Puente)
146. Samba Pa Ti (Santana)
147. Triste (Roberto Cantoral)
148. Lindo Yambu (Santiago Cerón)
149. Bim Bom (Vinícius de Moraes)
150. Yo Quiero Un Mambo (R. Roman)
151. Manteca (Dizzy Gillespie)
152. Brazil (Ary Barroso)
153. Unforgettable (Irving Gordon)
154. Samba de Orfeu (Luiz Bonfá)
155. Mandala (COBA)
156. Bouncing with Bud (Bud Powell)
157. I"ll Keep Loving You (Bud Powell)
158. Celia (Bud Powell)
159. Ballade (Charlie Parker)
160. LoverMan (Jimmy Sherman)
161. My Melancholy Baby (George A. Norton)
162. Im in the Mood for Love (Dorothy Fields)
163. The Twist (Hank Ballard)
164. Mack the Knife (Kurt Weill)
165. How Do I Live (Diane Warren)
166. Macarena (Rafael Ruiz Perdigones)
167. Physical (Steve Kipner)
168. You Light Up My Life (Joseph Brooks)
169. Un-Break My Heart (Diane Warren)
170. Bette Davis Eyes (Jackie DeShannon)
171. Tonight′s the Night (Rod Stewart)
172. Foolish Games (Jewel)
173. You Were Meant for Me" (Jewel)
174. (Everything I Do) I Do It for You" (Bryan Adams)
175. I′ll Make Love to You" (Babyface)
176. The Theme from ′A Summer Place (Max Steiner)
177. How Deep Is Your Love (Bee Gees)
178. Eye of the Tiger (Survivor)
179. I Just Want to Be Your Everything (Barry Gibb)
180. Too Close (Alex Clare)
181. Every Breath You Take (Sting)
182. Tossin′ and Turnin (Ritchie Adams)
183. The Battle of New Orleans (Jimmy Driftwood)
184. One Sweet Day (Maray Carey, Boyz IIMen )
185. Truly Madly Deeply (Darren Hayes)
186. Silly Love Songs (Paul McCartney)
187. Let′s Get It On" (Marvin Gaye)
188. Night Fever (Barry Gibb)
189. Another One Bites (John Deacon)
190. Say Say Say (Paul McCartney, Michael Jackson)
191. How You Remind Me (Chad Kroeger)
192. Tie a Yellow Ribbon Round (Irwin Levine)
193. It′s All in the Game (Carl Sigman)
194. I Want to Hold Your Hand (John Lennon)
195. Shadow Dancing (Andy Gibb)
196. Candle in the Wind (Bernie Taupin)
197. No One (Maray Carey)
198. End of the Road (Boyz II Men )
199. Call Me (Blondie)
200. Let Me Love You (William Grigahcine)
201. Stayin′ Alive (Barry Gibb)
202. Lady (Lionel Richie)
203. I′m a Believer (Neil Diamond)
204. Gold Digger (Ray Charles)
205. Apologize (Ryan Tedder)
206. Sign (Joe Raposo)
207. Centerfold (Seth Justman)
208. (Just Like) Starting Over (John Lennon)
209. The Boy Is Mine ( Brandy Norwood )
210. Because I Love You ( Warren Allen Brooks)
211. I Love Rock ′n′ Roll (Alan Merrill , Jake Hooker)
212. Ebony and Ivory (Paul McCartney)
213. Rush Rush (Peter Lord Moreland)
214. That′s What Friends Are For (Burt Bacharach, Carole Bayer Sager)
215. Upside Down (Jack Johnson)
216. Sugar, Sugar (Jeff Barry, Andy Kim)
217. I Heard It Through the Grapevine ( Norman Whitfield, Barrett Strong )
218. I Will Always Love You (Dolly Parton)
219. Pastime Paradise (Stevie Wonder)
220. Billie Jean (Michel Jackson)
221. You′re So Vain (Carly Simon)
222. Play That Funky Music (Rob Parissi)
223. Say You, Say Me (Lionel Richie)
224. It′s Now or Never (Elvis Presley)
225. I Can′t Stop Loving You (Michel Jackson)
226. U Got It Bad (Usher)